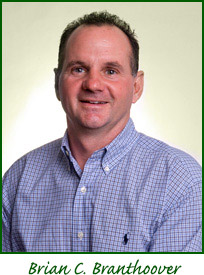 Brian C. Branthoover, B.T.L.A., is the owner and founder of Halian & Associates Landscapes. He has a Bachelor's of Technology degree in Landscape Design and Construction, and an Associate degree in Floriculture Production. Brian has been certified by the International Concrete Paver Institute (ICPI) for concrete paver stone installation and National Concrete Masonry Association (NCMA) for segmented retaining wall construction as well as (PMB) for precast modular block installation. He has testified as an expert witness in three civil cases involving landscape contractor negligence. Brian was a board member of the Virginia Nurserymen Association, and was a guest host on the WMAL (Washington DC) talk radio show addressing caller's concerns about landscape design and construction.
Brian is considered an expert in his field with over 30 years experience in the industry, an impressive education in landscape design/construction, and a strong reputation for innovative landscape design.
Halian & Associates Landscapes has been in business since April, 2006, offering complete landscape solutions that incorporate original and functional designs with professional, top quality installation. The company uses state-of-the-art equipment, materials and technology, and is proud to provide its employees with ongoing opportunities for professional development and continuing education. Utilizing a dedicated labor force rooted within the surrounding communities, Halian & Associates has achieved its success by maintaining superior standards with creativity, expertise and exceptional workmanship.